The Buckleigh Junior School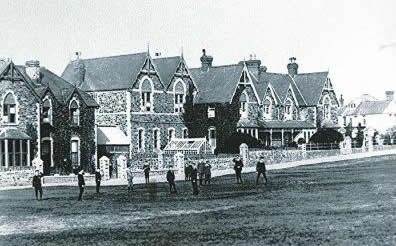 The Junior School at Buckleigh, Headmaster Mr J Leakey
The Junior School was closely associated with the United Services College. Established by the College authorities in 1879, in a private house at Buckleigh.
With the names of just 15 boys appearing on the first rolls, the school was to operate for five terms, before relocating to 'Edgehill' a house on the hillside above the College in 1880, this was previously used as a school for the very youngest boys aged six to nine years.
The junior school operated successfully until the early 1890's when numbers had fallen to such a low level that its future appeared uncertain. The appointment of a new Head, Mr R J Leakey however secured the schools fortunes and the junior school remained an existence in Westward Ho! Until 1914 when Leakey retired. After the departure of the USC the junior school was run and known as ' Mr Leakey's Junior School' independent of the USC.
The History Group have purchased copies of letters written by a pupil to his mother whilst at the school, dated 1882: Alexander Hore-Ruthven, 1st Baron Gowrie, VC PC GCMG CB DSO LLD
The letters were sent to his mother Lady Ruthven while he was a pupil at the Junior School Buckleigh in 1882. He would have been about 7 years old at this time. He was a pupil at Eton for a time but withdrawn due to poor eyesight
The Ruthven family lived for a while at Yeo Vale, Alwington the seat of the Townsend Kirkwood family.
Born 6 July 1872 at Windsor son of Walter James Hore-Ruthven 8th Baron Ruthven, and his wife Lady Caroline Annesley, nee Gore, daughter of the 4th earl of Arran. The family was Scottish.
Registered as Alexander Harry Hore- Ruthven and known throughout his life as 'Sandy' On 1st June 1908 he married Zara Eileen(1879-1965) daughter of John Pollock and his wife the Honourable Florence Madeline, nee Bingham. Her family opposed the marriage, regarding Hore—Rurthven as'the impecunious son of an impoverished family, with indifferent prospects'.
Governor General of Australia 1936-1944. On returning to Britain he was created Earl of Gowrie
He died in May 1955 at his home in Gloucestershire.

The Buckleigh site was acquired by Pontins in 1947, 'The Buckleigh Place Country Club' a small 6 acre site able to accommodate 75 guests. Consisting of a 19th Century Manor House until the 60's.
The site was sold again in 1975 to property developers. Part of the buildings knocked down, this included the ballroom, (old school hall) and kitchen area. 2 Blocks of flats built on site.
The dormitories converted into holiday accommodation- were again converted into permanent accommodation. Houses and Bungalows built on the site.
The original sports ground site became the putting green/mini golf course during the holiday camp days, and the tennis courts were kept and used for guests and a swimming pool built.
After the property was sold in 1975 re-built beyond all recognition, only the swimming pool remains.
The old Manor House(Buckleigh Grange)in 2007 has now been demolished ,houses built on the site.
site.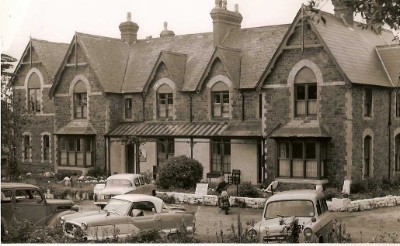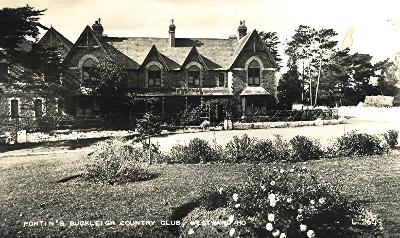 Buckleigh Place Country Club, Recollections of Jacqueline Moore.
I am the daughter of the late William James Dossetter who bought Buckleigh Place Country Club from Fred Pontin in 1963. This was one of Mr Pontins earliest camps. My father ran this business as a holiday camp for 10 seasons in total finally selling up at the end of the 1972 season. I spent each and every one of these seasons at the camp and also worked there.
From notes Made by my father about the building:
The first entry he has down is for a lease and release between several people of the Willett and Wren family in 1824. There are a lot of lease and releases between various parties but probably the next most significant entry was in 1882 to Thomas Davis Gregory a 21 year lease to United Services Propriety College for £800 and a yearly rent of £55. In 1886 there was a new lease to USPC and for £105 per year as three buildings were combined by a corridor (this was part of the corridor lounge at the club). The three properties in question appear to be San Rosa & Rose Cottage, Richmond Villa & Rose Bank (I can only think that one of these properties had 2 names!). There was a counterpart lease to Reg. John Leakey in 1904 for £40 per annum and in 1920 was sold by auction for £475 to Joseph Whittle Fudge. There followed quite a lot of conveyance and mortgage entries but probably next most significant after that was that in 1934 there was a mortgage to Inclusive Holiday Ltd for £1000 and in 1935 a Western Counties Building Soc. Mortgage for £1300 to the same. In 1947 there was a resolution and Inclusive Holiday deeds went to the bank as security. No known amount was paid by Pontins in this year for Buckleigh Place Country Club. I have no idea if there is any connection between Mr Pontin and Inclusive Holidays Ltd or indeed if it was used as a holiday business during this period.
I can remember my father being excited at having seen Mr Pontin fly in (I can't remember where to) by his helicopter to finalise buying the Club. In 1963 such modes of doing business were certainly not common.
Nothing changed at all in our first season as letters had to be posted out to inform every guest of the change of ownership and luckily there was only one cancellation because of this. It was something of a worry as Pontins was such a well known name. Also inherited in the first year was a manager and his wife and most of the staff.
During the time my father ran the business the format established by Fred Pontin remained pretty well the same.
My father owned and ran the camp from 1963 season until the end of the 1972 season. It was bought at the end of 1972 by local builder Harris who developed it a couple of years later. They kept a large part of the main building and converted it into dwellings. This part was formerly one wing of accommodation, the reception office, the TV lounge and the bar. The rest of the building and chalets were knocked down and apartments were built and a very nice housing estate was built around the heated swimming pool and this is still used by residents today. The driveway down to it is now called College Close.
Not long after we took over, a very old boy from the junior school visited us to look round the building. He commented that the school had been very lively. He pointed out the hatch in the ceiling of the ballroom and explained that years ago above it had been a dormitory (then games room) and the boys would come through the space at night and lark around into the school hall below. I remember that the school bell was still attached to the side of the building when we sold it in 1972.
In 1965 an additional dining room and still room was added to the building.
My father tried to sell it as a going concern but there were no takers. The reason my father gave for the sale of the Club was that the fire regulations that were soon to be introduced would have cost a lot to carry out and therefore it was the right time to sell up.
The land was a 6 acre site. There was a 9 hole putting green and very old looking tennis court. An outdoor heated swimming pool and trampoline was added for the start of the 1964 season. Other outdoor pursuits on offer were daily horse riding sessions 2 rambles a week and a coach outing to Boscastle or Lynton & Lynmouth.
The accommodation was originally for up to 75 persons in 23 bedrooms in the main house & 9 chalets outside.
My parents bought Buckleigh Lodge which was an 8 bedroomed Victorian house adjacent to the holiday club at the start of College Close (originally a 1 acre site that led down into the club it now has additional houses on it). This allowed us to expand to a total of 86 bed spaces. In addition to this, for several weeks we had approx 100 persons accommodated. The other fourteen being put up mostly by the immediate neighbours and even on one occasion 2 people were put up on the Lodge front room settee that converted to a double bed!
By 1972 we had a 60% return rate of guests (I worked in the office with my father at this stage) and one fortnight there was only one couple who had not visited before. There were several paid up local members who regularly used the clubs facilities in the evening.
Foreign holidays had started to take off in the latter stages but it never really affected us although we did get a few people taking a second holiday with us.
Out of season there were such occasions when the club was booked. New Years Scottish Dance Evening, a school week long field course group and a mentally handicapped holiday group were among the things I can remember taking place.
Entertainment in season consisted of Saturday night bingo and games, Sunday dancing (with Norman Cummins and in later years the Johnny Andrews Trio) in the ballroom, Monday film show night, Tuesday and Wednesday dancing in the ballroom, Thursday guests variety show and Friday dancing and fancy dress in the ballroom. There were various contests and the learning of the Buckleigh Walk and other dances in the ballroom.
The games room had 2 table tennis tables, one full size snooker table, darts, shovehapenny all with tournament prizes at the end of the week.
There was a weekly swimming gala and greasy pole competition.
There was a television lounge with one TV in it which got colour the same year it was introduced.
Dining was full board with a set menu. My aunt, who was a trained cook with much experience, became head cook after the first season. The food was often complemented and my aunt insisted on the kitchen doors being open when people passed into the dining room to be served their meals.
There was a kitchen garden out the back which grew quite a lot of the fresh vegetables and fruit. My uncle became the head waiter. My brother and one sister also worked for a time at the club.
There was a shop which sold items you might have forgotten plus postcards, tea, coffee, soft drinks, sweets, crisps, biscuits and fresh sandwiches in the evening. The bar sold alcoholic drinks and crisps and had a nice sea scene painted onto the bar shutters. My mother organised and often served behind the bar
The secret of Buckleigh Place Country Clubs success I think lay in the fact that it did literally feel like a house party every week with some weeks more boisterous than others. There were certainly many stories I could tell about some of these antics. The guests were made to feel it was a special holiday and many told us it was the best holiday they had ever had. It was enormously hard work as it was 24 hours work when open but the feed back made it all worth while. My father was a very good host and business man. For my part I felt privileged to work with him and gain such character building experience at such a young age.