Potwallopers / Potwallaping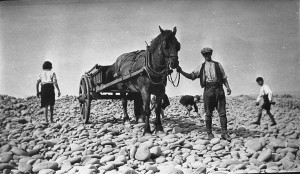 The term 'potwallopers' has been in existence since 1725 and is an alteration of the word 'Potwaller' (1701) which meant a man who qualified for a parliamentary vote as a householder in some boroughs in England prior to 1832. The test being his having a separate fire-place on which food was cooked for himself and his family.
In the ancient manor of Northam (which includes what was to become Westward ho!) a potwalloper had the right to graze their animals on the Burrows, but in return they had to help retain the pebble ridge by annually assisting in throwing back the pebbles that had been thrown onto the Burrows by the winter storms and high tides.
This annual ceremony disappeared after a time and was not revived until 1922 when it was continued for a few years until, again, there was a break in the tradition.
The accompanying photos are from around 1925 when many potwallopers made a family day of it by taking picnics and drinks.
A newspaper article in 1952 stated that the 'Potwalloping Day' had not taken place for 20 years, and that 'It was the custom to provide refreshments of beer, cider, and sandwiches for the Potwallopers in the 1930s and before.'
In 2008 Natural England told the Torridge District Council that they were no longer allowed to interfere with nature to protect the golf course because the course lies on a site of special scientific interest. Also that members of the golf club were banned from resurrecting the custom of 'potwalloping' where local people would through back the pebbles.
In more recent years Westward Ho! have had Potwalloping days which were friendly fun days of food drink and entertainment. The last one held was a few years ago.
The right to graze sheep and horses still belong to 'potwallopers' plus the right of access to the common land.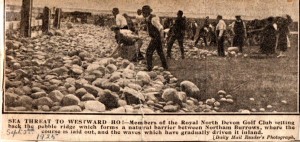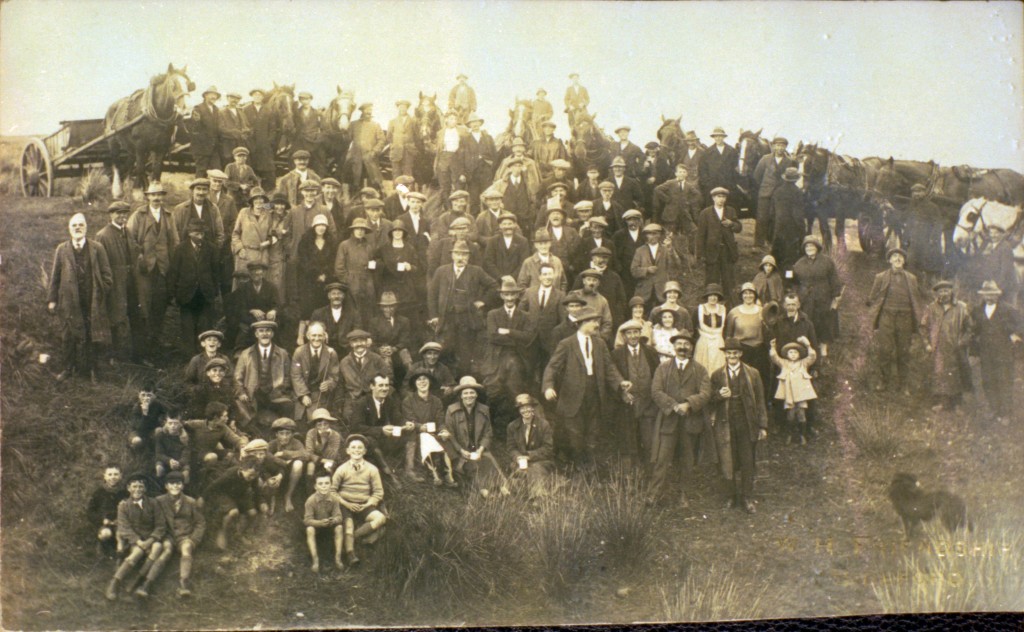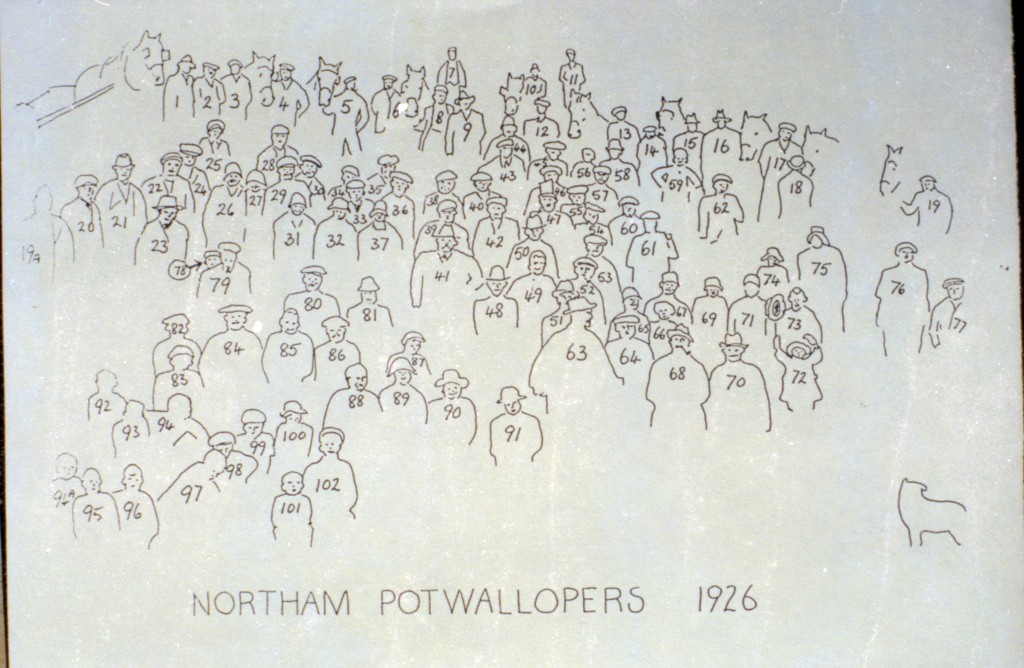 Below are the names of those so far identified. Please let us know if you can fill in the gaps or suggest corrections. The photographs below might help.
| Number | Surname | Other Names | Address or details |
| --- | --- | --- | --- |
| 1 | | | |
| 2 | GALE | CHARLES | Hazel Terrace, Northam (or TRACEY? Who worked on the Golf Course) |
| 3 | CANN | LAWRENCE | |
| 4 | TITHECOTT | REUBEN | North Street, Northam |
| 5 | JEFFERY | GEORGE | |
| 6 | DYMOND | BILL | ?? |
| 7 | LITTLEJOHNS | CHARLIE | Northam |
| 8 | EVANS | TOMMY (or STANLEY) | Watertown |
| 9 | | | |
| 10 | | | |
| 11 | | | |
| 12 | | | |
| 13 | | | |
| 14 | VILE | JOHNNY | Pebbleridge Cottage |
| 15 | JEFFERY | ? | |
| 16 | SMALE | JIMMY | Kimberley Terrace, Northam |
| 17 | SLOCOMBE | FRED | |
| 18 | TAYLOR | HORACE | Cow Park, Northam |
| 19 | BOYLE | BILL | Fore Street, Northam, worked for Walter Metherell |
| 19a | | | |
| 20 | CLARKE (or TAYLOR, ARCHIE father of No 21) | CHARLIE | Charley Clarke came from Richmond Farm, Watertown |
| 21 | TAYLOR | ERNIE | 16 Eastbourne Terrace, Westward Ho! |
| 22 | NORTHCOTT | GEORGE | Northam |
| 23 | | | |
| 24 | RIDD | W | Cross Street, Northam |
| 25 | | | |
| 26 | KELLY | Mrs W | Cross Street, Northam |
| 27 | KELLY | FRANCES | Cross Street, Northam |
| 28 | CANN | WALTER | |
| 29 | KELLY | SYD | Cross Street, Northam |
| 30 | WESTLAKE | ALBERT | Lewis Hill, Northam |
| 31 | WESTLAKE, (or TOWLER, ELSIE, married name NICHOLS) | GLADYS | |
| 32 | WESTLAKE | WINNIE | |
| 33 | WESTLAKE | BILL | North Street, Northam |
| 34 | | | |
| 35 | MAY | "FARMER" | 2 Leigh Crescent, Northam, worked as foreman, MILLS farm, Tadworthy Road, Northam. |
| 36 | | | |
| 37 | | | |
| 38 | FOWLER, (or TOM JEWELL, Appledore) | BILL | Appledore |
| 39 | | | |
| 40 | COOK (or Mr LITTLEJOHNS) | ALBERT | A Coalman, Castle Street, Northam |
| 41 | WITHECOMBE, (or ---LLOYD | WALTER | |
| 42 | BOND | TOM | North Street, Northam, Foreman of Golf Greenkeepers |
| 43 | TUCKER | JACK | Appledore |
| 44 | | | |
| 45 | LAMEY | JACK | Appledore |
| 46 | BRAUND | JIM | Appledore, Blacksmith |
| 47 | | | |
| 48 | WILKEY | FRED | Venton Farm, Westward Ho! |
| 49 | JONES | TOMMY | Cycle Shop, Fore Street, Northam |
| 50 | STONE | Mr | Headmaster Northam School |
| 51 | | | |
| 52 | BLACKFORD | BILL | Northam |
| 53 | METHERELL | WALLY | Trelawney |
| 54 | GRIFFITH | DAVE | Sweetholme Terrace, Northam |
| 55 | LAMEY | RANDALL | Meeting Street, Appledore |
| 56 | | | |
| 57 | TAYLOR | ? | 16 Eastbourne Terrace, Westward Ho! See No 21 |
| 58 | | | |
| 59 | GUARD | OSCAR | Alms House, Northam, Drowned at Westward Ho! With Warren Smith??? |
| 60 | GLOVER | LOPE | North Street, Northam |
| 61 | COOK | ERNEST or EVERETT | Hazel Terrace, Northam |
| 62 | BROWN | BERT ?? | |
| 63 | | | |
| 64 | STEER | FRED | Bidna Farm, Northam |
| 65 | | | |
| 66 | | | |
| 67 | GIFFARD | Mrs | Castle Street, Northam |
| 68 | WITHECOMBE | BILLY | Bone Hill Farm, Northam |
| 69 | FOGATY, Mrs, née WILKEY | | Avon Lane, Westward Ho! |
| 70 | | | |
| 71 | YEOMAN, | Mrs | Northam |
| 72 | | | |
| 73 | | | |
| 74 | | | |
| 75 | HAMLYN | Mrs | Northam |
| 76 | RICHARDS | LAMBETH | Appledore, Builder |
| 77 | SPRY | TOM | New Causeway, Northam |
| 78 | CANN | JOHNNY | Fore Street, Northam |
| 79 | NORRELS | TISH | Cross Street, Northam |
| 80 | | | |
| 81 | | | |
| 82 | BISHOP | JACK | Lenards Road, Northam |
| 83 | CANN | NIPPER | Castle Street, Northam |
| 84 | BELLEW | ARTHUR | |
| 85 | HAMBLY | Mr (see no 40) | Kipling Terrace, Insurance Agent. Always wore a buttonhole |
| 86 | HEARN | JESSE | Cross Street, Northam |
| 87 | HOGKINS | CHARLEY | Holywell, Northam |
| 88 | GIDDY | BILL | Westward Ho! Was a traffic Warden for Cross Street, Northam |
| 89 | GLOVER | DORIS | Oxmans Lane, Northam |
| 90 | GLOVER | Mrs | |
| 91 | GALLIFORD | Mrs | Westward Ho! Road (or ANNIE COX, Cross street) |
| 92 | | | |
| 93 | TUCKER | CHARLIE ?? | |
| 94 | | | |
| 94a | | | |
| 95 | | | |
| 96 | | | |
| 97 | | | |
| 98 | SYMES | STAN | Bideford, East |
| 99 | TUCKER | JACK | Appledore |
| 100 | SLOCOMBE | R | Watertown |
| 101 | BOWDEN | STEVEN (SCRUFF) | |
| 102 | OATWAY | ROY | Castle Street, Northam, Both his parents died in Black 'flu' epidemic after 1st world war |